Ever heard of Candlenut Oil? This little-known ingredient might just be Asia's and Africa's best-kept secret for achieving both healthy and beautiful skin.
Also known as kukui nut oil, this oil is derived from the kukui tree (Aleurites Moluccana) and has been used by many cultures for centuries as an ingredient in medicines and beauty products.
Not only is it loaded with essential fatty acids, but it also contains powerful antioxidants that protect your skin from premature aging. Let's dive in and uncover the secrets of Africa's health and beauty powerhouse – Candlenut Oil!
What Is Candlenut Oil?
It's a vegetable oil (mafuta ya mboga) extracted from the seeds of the kukui nut tree, which is native to the tropical regions of Southeast Asia, China, and the Pacific Islands. It has also been gradually introduced to the West Indies, especially around the North Atlantic coast.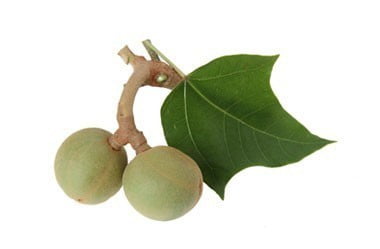 Candlenut oil
Kukui seed oil is obtained from the Moluccan oil tree. In the Hawaiian language, "Kukui" means enlightenment. This oil isn't frequently applied in cosmetics, even though its features could amaze customers. This oil is a rich source of: unsaturated fatty acids – primarily linoleic acid, oleic acid and alpha-linolenic acid (ALA).
The oil is rich in essential fatty acids (asidi ya mafuta) like linoleic, oleic, linolenic, and stearic, as well as vitamin E and carotene. It has a light yellow color and a mild nutty aroma, similar to almond or peanut butter.
Historically, this oil was only used as an emollient, meaning it was used to soften, moisturize, and smoothen the skin. Thanks to its powerful antioxidant properties, it has become a popular ingredient in skincare products.
Benefits of Candlenut Oil
There are numerous benefits of candlenut oil for skin health and beauty. Here are just a few of them:
Softens the Skin
One of the major ingredients in candlenut oil, stearic acid, is a dermatology-approved skin softener. According to experts, this acid is safe and well-tolerated by all skin types; it's also highly hydrating and gives the skin a smooth, silky feel.

It Has Anti-Inflammatory Properties
Candlenut oil has anti-inflammatory properties that may help to reduce inflammation (kuvimba) and redness on the skin (uwekundu wa ngozi). This makes it quite useful for people with conditions such as eczema, psoriasis, and rosacea.

It's also a great option for people who have sensitive skin because it won't irritate the skin or cause any allergic reactions.

Its Highly Moisturizing
The fatty acids in candlenut oil are rich in emollient properties, meaning they're great for locking moisture into the skin. As such, the oil can penetrate deep into the skin, leaving it soft, smooth, and well-hydrated.

So, if you suffer from dry, flaky skin due to a lack of moisture, try applying candlenut oil instead of your usual moisturizer.

It Prevents Premature Aging
Candlenut oil contains vital antioxidants such as Vitamins A, E, and C. These antioxidants protect the skin from free radical damage, which often leads to premature aging. This reduces the signs of aging by stimulating collagen production, leaving your skin looking firm and more youthful.

Stimulates Hair Growth
This oil is packed with antioxidants like oleic and linoleic acids, polyphenols, and flavonoids, which help promote healthy hair growth. These ingredients lead to muscle relaxation in your hair follicle, stimulating hair growth.
Additionally, oleic acid slows down hair loss, making it a great choice for anyone looking to revitalize their hair. It's also a great option for people who suffer from dandruff or scalp irritations.
Conclusion
Candlenut oil is a powerhouse of health and beauty benefits. From softening the skin to promoting healthy hair growth, this oil has numerous benefits that cannot be ignored.
So, if you're looking for a natural and effective way to keep your skin and hair looking healthy, give candlenut oil a try! You won't be disappointed.
---
References
Norulaini, N., Budi, R. S., Omar, A., Zaidul, M. D., & Omar, M. (2004). Major Chemical Constituents of Candlenut Oil Extract Using Supercritical Carbon Dioxide. Malaysian Journal of Pharmaceutical Sciences, 2(1), 61-72. http://web.usm.my/mjps/mjps02012004/mjps02012004_6.pdf
Rud, M. (2022). Stearic acid is the derm-approved skin-softener to add to your routine. Byrdie. https://www.byrdie.com/what-is-stearic-acid-5120216
Wikipedia. (2022). Candlenut oil. Wikipedia, the free encyclopedia. https://en.wikipedia.org/wiki/Candlenut_oil