Castor bean (Ricinus communis L.) is a tropical plant that was cultivated and used in medicine as far back as ancient Egypt. Its seeds are characterized by the presence of a highly toxic compound – ricin; however, castor oil obtained from the plant by pressing is a product which is completely safe for the body. This is attributable to the properties of ricin, which – as a protein compound – does not mix with oils, and decomposes when exposed to high temperatures.
Obtained by cold pressing castor seeds and then boiling them with water, castor oil is a mixture of ricinoleic (90%), oleic (7%) and linoleic (3%) acids. It finds both medicinal and cosmetic applications.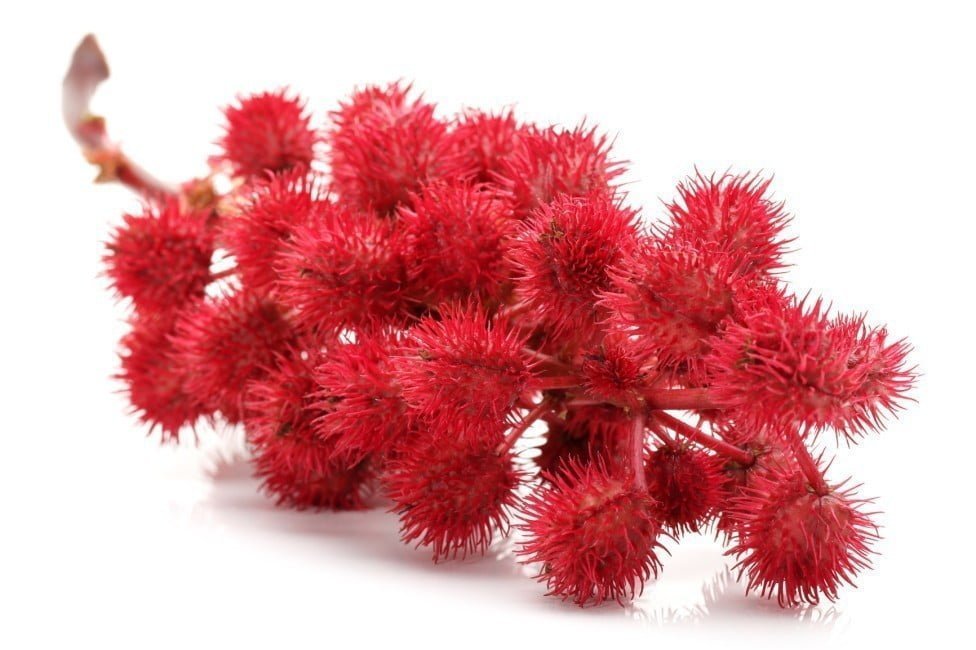 Castor oil
Natural Poland is a wholesale distributor of cold-pressed castor oil. It is a well-known oil derived from castor bean seeds. Nowadays, castor oil is widely used in skin and hair care, as well as during medical procedures.
How to use castor oil?
Castor oil for constipation
For medicinal purposes, castor oil is used primarily for its strong laxative effect. The ricinoleic acid in the oil forms sodium and potassium salts (ricinoleic soaps) in the alkaline environment of the intestine. These exhibit an irritant effect on the mucous membranes of the intestines, causing increased peristalsis.
Castor oil is considered both an effective and completely safe remedy. However, it should not be used during pregnancy. Related to this contraindication is its other medicinal application, as it is also sometimes used to induce labor. However, clinical studies do not confirm its effectiveness in this application.
Castor oil – compresses
Castor oil is also used externally. Warm compresses are recommended for rheumatic complaints, muscle and joint pain, treatment of heel spurs, as well as inflammation of the skin. This is due to its antioxidant, anti-inflammatory, analgesic and antibacterial properties.
Preliminary in vitro and animal models results also indicate that castor oil can find potential use in the treatment of diabetes and cancer, although it has not yet been confirmed in clinical trials.
Castor oil in cosmetics
The above described properties also translate into the popularity of castor oil being used as ingredient in cosmetics. It is used primarily for its conditioning properties, based on occlusive action, reducing water loss and having a nourishing effect on the skin, hair and nails.
In skin care, castor oil – thanks to its antimicrobial and anti-inflammatory properties – is used in the treatment of skin ailments such as acne, boils, warts, and – when used as a long-term treatment – it gives good results in reducing scars and stretch marks. Its moisturizing properties alone and its high content of unsaturated fatty acids also make the oil a good ingredient in anti-aging preparations, with skin-rejuvenating effects. As a lipid product, castor oil also exhibits cleansing properties and can be used as a facial cleanser and makeup remover.
Castor oil for the hair
However, castor oil in cosmetics also has wider applications. As an ingredient in conditioners and shampoos, as well as used on its own, it improves condition of the hair. It is particularly recommended for dry and damaged hair with split ends – when used regularly, it strengthens and moisturizes the hair, as well as stimulates its growth, making it thicker and stronger.
This applies not only to products intended for the hair on the head, but also to conditioners for eyelashes and eyebrows. Castor oil products find similar applications in preparations used in manicures. It helps to strengthen and nourish the nails, as well as repair damage caused by frequent use of regular or hybrid nail polish.
---
Bibliography:
Boel ME., Lee SJ., Rijken MJ. i wsp. (2009). Castor oil for induction of labour: Not harmful, not helpful. Anzjog, 49(5): 499-503. https://doi.org/10.1111/j.1479-828X.2009.01055.x
Marwat SK., Rehman F., Khan EA. i wsp. (2017). Ricinus communis: Ethnomedicinal uses and pharmacological activities. Pak. J. Pharm. Sci., 30(5): 1815-1827. https://www.researchgate.net/publication/319256370
Reszke R., Reich A. (2016). Wybrane składniki pochodzenia roślinnego obecne w kosmetykach dostępnych w Polsce. Forum Dermatologicum, 2(2): 51-59. https://journals.viamedica.pl/forum_dermatologicum/article/view/47568/35890
https://www.medonet.pl/zdrowie,olejek-rycynowy—ratunek-dla-wlosow–skory-i-paznokci,artykul,1725346.html